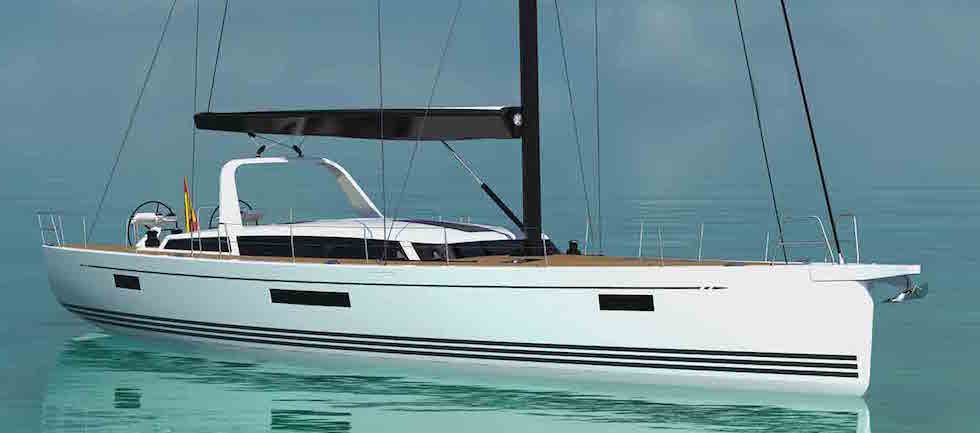 ---
X6
Utilising the very latest state-of the art design concepts, yet unmistakeably an X-Yacht, the X-Yachts designers started with a clean slate for the all-new X6.
Developed to provide ultimate luxury, without sacrificing the renowned X-Yachts sailing performance, the X6 will take her owners and crew anywhere in sumptuous style and comfort.
The design of the X6, from its sleek flush foredeck to streamlined, sweeping coachroof, is both clean and considered. Every detail has been afforded the utmost attention, creating a truly modern design that is as practical as it is stylish.
Building upon the best features of the world beating Xcruising and Xperformance ranges, the X6 will utilise the same hi-tech, low-weight construction techniques as the latest generation Xp racer-cruisers, including vacuum infused epoxy with localised carbon fibre reinforcements for strength, stiffness and stability.
The weight saved has been put to good use: allowing long-range fuel and water tanks, larger battery banks and optional equipment such as water makers and dive compressors to be fitted without sacrificing performance.
The new 'X' range will be a luxurious and impressively fast collection of performance cruising yachts for state-of-the-art bluewater sailing.
---
EXTERIOR
The high degree of customisation continues on the X6 exterior, with a full range of rig options including a 'Park Avenue' boom, and in-boom or in-mast furling. There is a choice of shallow and deep draft keels, with 'L' and 'T' bulbs, as well as a choice of cockpit furniture and an optional mainsheet arch with integrated bimini to create the perfect sailing and on-deck experience.
---
INTERIOR
Danish design and architecture is famous for its clean and timeless style. This ethos is central to the design of the X6, which combines an elegant aesthetic with luxurious standards of quality and confort.
The raised saloon coach roof with wrap-around windows creates a sense of light and spaciousness, whilst offering panoramic views and allowing seamless crew movement between the saloon and cockpit.
Throughout the interior, an uncluttered feel has been achieved thanks to clever storage solutions for the plentiful gear needed for a luxurious life aboard.
A combination of the latest technologies and a finely crafted interior utilising high quality materials creates a truly pleasurable cruising experience. The X6 interior fittings unite natural materials such as soft leather and wood with handcrafted details and cutting-edge innovations.
The X6 may be highly personalised to suit each owner's style, from sleek and minimalist to more hi-tech and contemporary.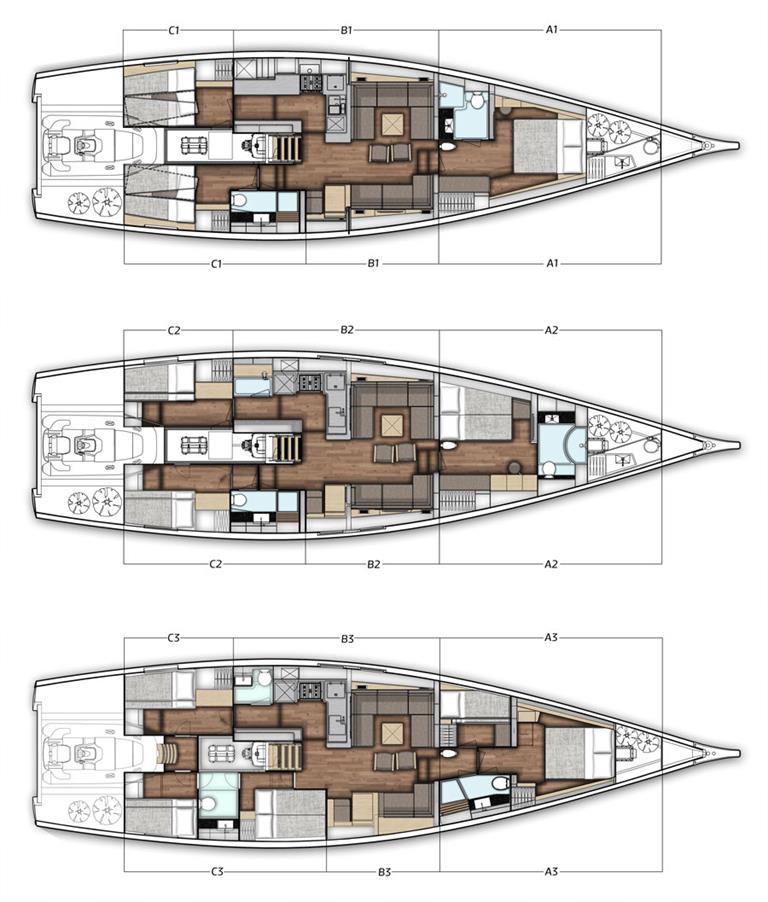 Standard version is A1 / B1 / C1
A Interior options for the forward section
A1  Owner's double berth on centre line, en-suite head/ shower to port, full length sail cabin
A2 Owner's double berth to port, en-suite head/shower forward, full length sail cabin
A3  Owner's double berth on centre, 2 single berths on freeboard to port, shared head/shower to starboard
B Interior options for the middle section
B1 Extended galley and U sofa to port
L-sofa and nav station to starboard
B2 Work shop, Galley and U-sofa to port
L-sofa and nav station to starboard
B3 Aft cabin´s head, Galley and U-sofa to port
L-sofa and nav station to starboard
C Interior options for the aft section
C1 Double berths to port
Double berths and head/shower to starboard
C2 2 single berths on freeboard to port
2 single berths on freeboard and head/shower to starboard
C3 2 single berths on freeboard to port
2 aft cabins with shared head/shower to starboard
Combinations available
A1/B2/C1 • A1/B3/C3 • A2/B1/C1 • A2/B2/C2
A3/B1/C1 • A3/B2/C1 • A3/B2/C2
Notes
A3 Reduced sail cabin length
C1 Double berths can be either converted to twin berths or 2 single berths on freeboard
C3 Modified cockpit layout integrates a cockpit floor entrance hatch
B3/C3 Option B3 can only be chosen with option C3 to allow port aft cabin access to a head compartment. No main sheet
---
SAIL PLAN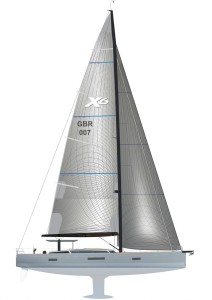 | | |
| --- | --- |
| Hull length |  19,19 m |
| LWL |    17,85 m |
| B. MAX |    5,4 m |
| | |
| --- | --- |
| Mainsail |   130 m² |
| Genoa 106% |    90 m² |
| Asymmetric Spinnaker |    280 m² |
| | |
| --- | --- |
| Draft – standard | 3 m |
| Shallow draft 1 | 2,6 m |
| Draft – deep | 3,4 m |
| Engine diesel | 119 kW |
| Fuel tank – standard | 1200 Ltr |
| Water tank – standard | 1000 Ltr |
| Cabins, standard | 3 |
| Heads, standard | 2 |
---